Get Started
This course is currently closed
Join a Borrow My Glasses
Book Group
Book: Learning To Speak Alzheimer's by Joanne Koenig Coste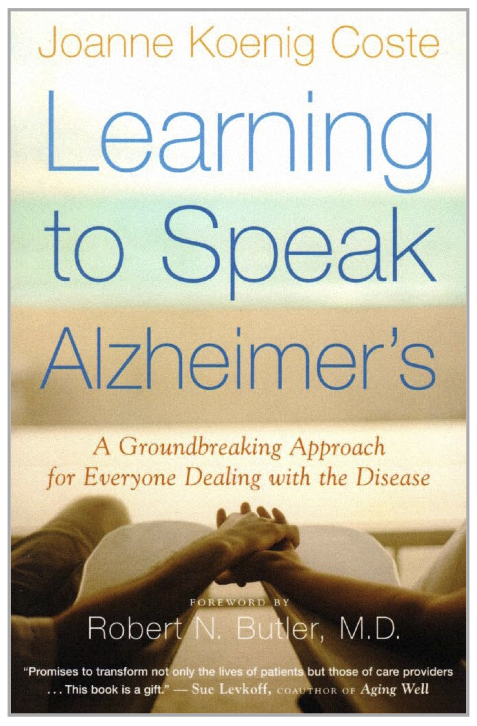 Feel frustrated, worried, uncertain, or guilty while caring for
someone with Alzheimer's or dementia?
Seeking new skills and strategies?
Want to feel more connected to your person with the illness?
Looking for alternatives to the tragedy narrative?
Who Should Attend?
Individuals or family groups, personal care assistants or aides, family groups with their paid caregivers, friend groups, book groups, workplace caregiver groups, professionals, support groups, senior living community groups, faith community groups, libraries, book stores, etc. Contact us to discuss a separate series for your existing group.
How Does it Work?
Register to save your spot
Borrow, purchase or download the book from your local library, a friend or senior living community, home care agency with a lending library, or wherever you buy or download books
Read a few chapters at a time
Join us on Zoom once a week for a month, each session is 90 minutes
We'll discuss the book in sections, giving you time to practice between sessions
Multiple Levels of Learning
From the book
From your facilitator
From other care partners on the same journey
From practicing new skills and strategies
From reflecting on and sharing what works well and not so well
Registration to Open Soon
Thursdays 7:00 – 8:30pm (Eastern time)
May 4, 11, 18, 25, 2023
$65 introductory price
Registration fee includes the entire series, no refunds for missed sessions
At this time, recordings will not be available
Click the link and we'll let you know as soon as registration opens!
About the Facilitator
Donna Fedus is a gerontologist educator, adjunct professor, program strategist, instructional designer, researcher, and founder of Borrow My Glasses, a gerontology education company focused on aging and caregiving from a new perspective. Critical to Donna's mission is to offer alternatives to the tragedy narrative and stigma that often surround aging, caregiving, and dementia.
"Learning To Speak Alzheimer's is the book that changed my thinking about Alzheimer's and led me to become a dementia educator more than 15 years ago. These practical, hopeful strategies are more relevant than ever, and I'm passionate about sharing them!"